Hello Toy Runners, I'm pleased to join you again to discuss our recent toy finds! I took advantage of Migs Mayfield being on clearance at Target to build up my mudtrooper army. I also got the 332nd Clone Troopers from Amazon, and I took the opportunity to revisit my Captain Vaughn custom. Check it out!
Since Solo came out in theaters, I've wanted a mudtrooper in TVC. It was one of my older customs when I first started down that path. Now that we got the Mandalorian Tank drivers I suspect we will see an official mudtrooper soon, but I couldn't wait. Migs got clearanced quickly at Target; I took advantage by getting enough figures to swap all my 5poa mudtrooper heads over. I'm in the process of fixing the shoulder armor and adding capes.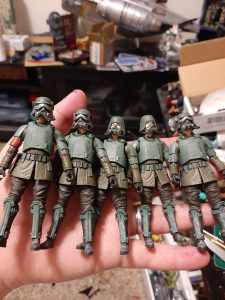 I also got four 332nd clone troopers from Amazon this week. I gave them a bit of weathering to match Captain Vaughn. Soon I will have the Airborne Mandos and have a full battle scene ready to go from season 7 of CW. 
I'll have much more to share next week so I hope to see you back again! Please share your recent toy hauls in the comments below.